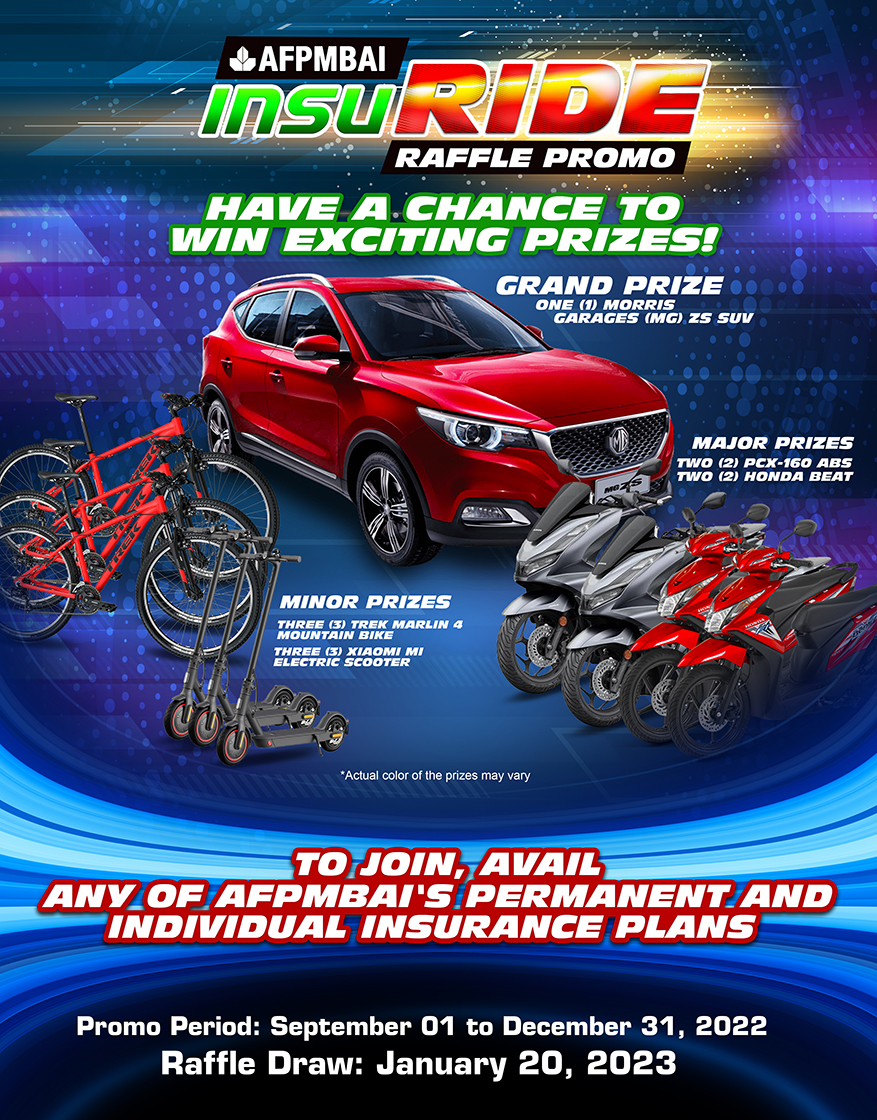 AFPMBAI INSURIDE ANNIVERSARY RAFFLE PROMO Mechanics
I. GEOGRAPHICAL SCOPE AND DURATION
This NATIONWIDE promo will run from September 1, 2022 to December 31, 2022.
II. MECHANICS
The promo is open to ALL REGULAR UNIFORMED SERVICES MEMBERS and ASSOCIATE MEMBERS of AFPMBAI, as defined in the attached Definition of Terms (Attachment A).
Participants must be Filipino citizens, at least 18 years of age, and residing in the Philippines.
AFPMBAI Members can acquire raffle entries by applying for the following Insurance Plans, from September 1, 2022 to December 31, 2022:

Individual and Permanent Insurance Plans

10-Year Endowment
15-Year Endowment
20-Year Endowment
College Education Plan
Saver's Protection Plus (10-15 Endowment Plan)
20-Year Anticipated Endowment
20-Pay Life
Whole Life
Endowment at 56
MBAI 5ecure

For submitted insurance applications mentioned in item # 3, payor-members are entitled to one (1) raffle entry for every insurance application with P100,000 of Face Amount/Coverage OR for every P100,000 worth of accumulated Face Amount/Coverage.
All insurance applications will be subject to a verification process conducted by the Insurance Sales Division (ISD) to ensure that these applications have complete information required for the underwriting process.
All qualified entries as verified by the ISD will be submitted with the following information per electronic raffle entry:


Name of Member who applied for insurance
Branch of Service
Member's active contact number
Member's active email address
Member's unit assignment
Insurance plan applied for by Member
Face Amount of plan applied for by Member
Name of Insurance Sales Force or ABOD personnel
Name of Field Area Manager/NCR Group Manager or ABOD Branch

The Monthly Official Sales Reports should be submitted to Marketing Division, signed by Head, ISD, on the following dates:


| | |
| --- | --- |
| Sales Period Coverage | Reporting Date |
| September 1 – September 30, 2022 | October 10, 2022 |
| October 01 – October 31, 2022 | November 10, 2022 |
| November 01- November 30, 2022 | December 12, 2022 |
| December 01- December 31, 2022 | January 13, 2023 |

A confirmation receipt shall be immediately sent by Marketing Division to ISD upon receipt of the Official Sales Report.

The data gathered shall be stored in an in-house database and shall be subject to an electronic raffle draw on January 20, 2023, 02:00PM (Friday).
There will be a total of twenty-two (22) raffle draws corresponding to the number of prizes available for the
Members, including the draw of back-up winners.
III. RAFFLE PRIZES
The raffle entries will vie for the following prizes:

Grand Prize
One (1) Winner Morris Garages (MG) ZS SUV
Major Prizes
Two (2) Winners Honda PCX-160 ABS
Two (2) Winners Honda Beat Fashion Sport
Minor Prizes
Three (3) Winners       Trek Marlin 4 Mountain Bike
Three (3) Winners       Xiaomi Mi Electric Scooter
Note: AFPMBAI will shoulder the 20% tax for all the raffle prizes.
All prizes are non-transferable and non-convertible to cash.
IV. DRAWING OF WINNERS
Each raffle entry will be assigned a raffle number to serve as an electronic raffle entry.
The electronic raffle entry shall be raffled off using the E-Raffle Software developed by IT Division of AFPMBAI.
The winners will be drawn starting from the lowest prizes first, and the grand prize last. A raffle entry can only win once, if his/ her name is drawn twice, he/she will get the higher-priced item or prize.
The raffle draw will be held on January 20, 2023 (Friday) at 2:00 PM at the AFPMBAI Head Office, and shall be witnessed by representatives from ISD, Internal Audit Office, Marketing and ITD. Drawing of winners will be documented.
V. ANNOUNCEMENT OF WINNERS
Winners will be notified via SMS, e-mail, call out of a representative and registered mail from the Marketing Division.
Names of the winners will also be posted on AFPMBAI's Official Facebook Page and Website.
VI. AWARDING OF WINNERS
Raffle prizes must be claimed within sixty (60) calendar days from receipt of notification from AFPMBAI. Otherwise, the prizes shall be forfeited and retained by AFPMBAI.
Winners can claim their prizes at:
GMA Winners  – Marketing Division, 3/F AFPMBAI Annex Building, Col. Bonny Serrano Road corner EDSA, Quezon City
PROVINCIAL Winners – nearest AFPMBAI Branch or Extension Office
CONTACT PERSON:           PRINCESS MELODY T. ULIT-AGUSTIN
Advertising & Promotions Coordinator
0995-129-0187
VII. CLAIMING OF PRIZES
To claim prizes, winners must bring their National ID (Philsys) or any two (2) of the following government IDs:

Philippine Passport
Driver's License
Service IDVoter's ID
Postal IDPhilHealth Card
TIN Card

Additional IDs acceptable (for Associate Members only):
SSS Card
GSIS Card

In the event that the member is unable to claim the prize, an authorized representative can claim in behalf of the member but shall be required to present the following:

A. National ID or two (2) valid government IDs of the winner/member
B. Original copy of the Winner's authorization letter
C. National ID or two (2) valid government IDs of the authorized representative
VII. DISQUALIFIED PARTICIPANTS

AFPMBAI's employees, insurance representatives, field area managers/group managers, suppliers, contractors, vendors, agencies, and consultants, including their relatives up to second degree of consanguinity or affinity, are disqualified from joining the promotion.
ATTACHMENT A – DEFINITION OF TERMS
Regular Members – The following are considered regular members:
Military personnel inactive service of the Armed Forces of the Philippines (AFP)
Those in active service of the following:

Philippine National Police (PNP)
Bureau of Fire Protection (BFP)
Bureau of Jail Management and Penology (BJMP)
Philippine Coast Guard (PCG)

Retired and honorably separated or discharged AFP, PNP, BFP, BJMP and PCG personnel

Associate Members – The following are considered associate members
Members of the Reserve Officer Training Corps (ROTC)
Reservists of the AFP
Members of the Citizen Armed Forces Geographical Unit Active Auxiliary (CAFGUAA), and Special Civilian Armed Auxiliary (SCAA), Volunteer Fire Brigade, Bureau of Corrections, and other uniformed service units.
Parents, dependents, wives and children of regular members
Duly licensed private security guards
Civilian employees of the AFPMBAI, other AFP financial institutions, non-uniformed personnel of the PNP, and other organizations and agencies connected with the uniformed services and major services bureaus
Cadets and Graduates of the Philippine Merchant Marine Academy (PMMA), Philippine National Police Academy (PNPA), and Maritime Academy of Asia and the Pacific (MAAP)
10-, 15-, and 20- Year Endowment Plan – A guaranteed savings plan with additional protection and dividends that offers a maturity benefit equal to the face amount at the end of the endowment period
College Education Plan – A plan payable within five years for children aged 0-11 years old, with a guaranteed education fund as maturity benefit on the policy anniversary after the 17th birthday of the child. Premiums are waived in case the member passes away or the member becomes totally and permanently disabled, while the child-insured is also covered with insurance until maturity.
Saver's Protection Plus – Payable in 10 years, an insurance and endowment plan that offers dividends starting on the 3rd policy year, 20% yearly bonuses on the 10th-14th year, and a 100% maturity benefit (equal to the Face Amount) upon maturity on the 15th Insurance coverage doubles starting on the 6th year to the 15th year.
20-Pay Life – payable for 20 years only, a whole life insurance plan that protects the insured for life until age 99 and offers dividends and cash surrender values starting on the 3rd policy year
Whole Life – payable until age 99, an insurance plan that protects the insured for life until age 99 and offers dividends and cash surrender values starting on the 3rd policy year onwards
Endowment at 56 – a retirement plan with a guaranteed maturity benefit at age 56, protects the insured until maturity, and offers dividends and cash surrender values starting on the 3rd policy year onwards
MBAI 5ecure – A five-year term insurance plan that offers pure protection with no cash values and no maturity benefit. Upon application this plan is guaranteed renewable for another five years with no medical examination required, or it can be converted to a permanent insurance plan.