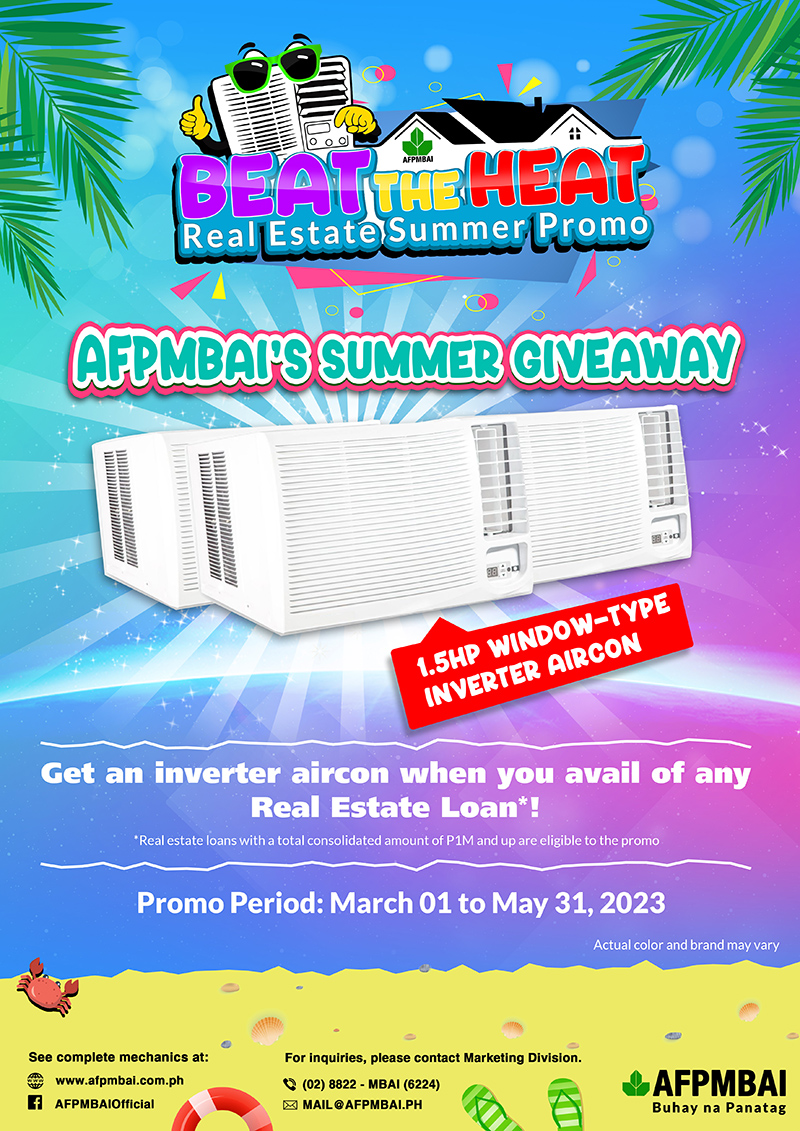 I. GEOGRAPHICAL SCOPE AND DURATION
This NATIONWIDE promo will run from MARCH 01 TO MAY 31, 2023.
II. MECHANICS
The promo is open to ALL REGULAR UNIFORMED SERVICES MEMBERS and ASSOCIATE MEMBERS of the AFPMBAI, as defined in attached Definition of Terms (Attachment A)
Participants must be Filipino citizens, at least 18 years of age, and residing in the
AFPMBAI members with an approved Real Estate Loan will be eligible to receive one (1) 1.5 HP window-type inverter airconditioner, provided that the following requirements are met:


The member has a total consolidated loan of at least One Million Pesos (P1,000,000.00) with AFPMBAI, as of the date of loan approval
The final real estate loan was approved during and within the promo period only

The Real Estate Division will grant access to their daily sales production dashboard to the Marketing team (c/o Mr. Michael Munoz — mg.munoz@afpmbai.com.ph and Ms. Princess Melody Agustin —  pt.ulit@afpmbai.com.ph) for the latter to view all verified and approved applications, which should contain the following information:


Name of Member with approved housing loan or mortgage loan
Serial No./ Account No. of member
Member's Active Mobile Number
Member's unit Assignment
Kind of loan applied for by Member
Amount of Loan applied
Name of Real Estate Specialist or Sales Support Staff who closed the loan

The Real Estate Division will also submit a consolidated monthly sales production report to the Marketing Division not later than the 5th of each month.
For NCR members, prizes will be released seven (7) business days after the approval of loan applications. As for the members in the other areas, it will be after fourteen (14) business days.
III. ANNOUNCEMENT OF WINNERS
Winners will be notified via SMS, e-mail, and call out of a representative from the Marketing Division.
IV. AWARDING OF WINNERS
Prizes must be claimed within sixty (60) calendar days from receipt of notification from AFPMBAI.  Otherwise, the prizes shall be forfeited and retained by AFPMBAI.
Upon notification of winning, the Marketing Division will identify and communicate to the member-winner where they can claim their prizes:
GMA Winners              –     Marketing Division, 3/F AFPMBAI Building, Col. Bonny Serrano Road corner EDSA, Camp Aguinaldo, Quezon City
PROVINCIAL Winners  –  nearest AFPMBAI Branch or Extension Office
CONTACT PERSON :         PRINCESS MELODY U. AGUSTIN
Advertising & Promotions Coordinator
Tel. 0995-129-0187
Email : pt.ulit@afpmbai.com.ph
V. CLAIMING OF PRIZES
To claim prizes, winners must bring their National (Philsys) ID or any two of the following government IDs:
Philippine Passport                 Driver's License                       Service ID
Voter's ID                                Postal ID
PhilHealth Card                       TIN Card
Additional IDs acceptable (for Associate Members only):
SSS Card
GSIS Card
VI. In the event that the member is unable to claim the prize, an authorized representative can claim on behalf of the member but shall be required to present the following:
Two valid government IDs of the winner/member
Original copy of the Winner's authorization letter
Two valid government IDs of the authorized representative
ATTACHMENT A – DEFINITION OF TERMS
a. Regular Members – The following are considered regular members:
Military personnel inactive service of the Armed Forces of the Philippines (AFP)
Those in active service of the following:

Philippine National Police (PNP)
Bureau of Fire Protection (BFP)
Bureau of Jail Management and Penology (BJMP)
Philippine Coast Guard (PCG)

Retired and honorably separated or discharged AFP, PNP, BFP, BJMP and PCG personnel
b. Associate Members – The following are considered associate members
Members of the Reserve Officer Training Corps (ROTC)
Reservists of the AFP
Members of the Citizen Armed Forces Geographical Unit Active Auxiliary (CAFGUAA), and Special Civilian Armed Auxiliary (SCAA), Volunteer Fire Brigade, Bureau of Corrections, and other uniformed service units.
Personnel from the Bureau of Corrections, Philippine Drug Enforcement Agency, National Bureau of Investigation, Bureau of Immigration, National Mapping Resource Information Authority, Airport Police, and Customs Police
Parents, dependents, wives and children of regular members
Duly licensed private security guards
Civilian employees of the AFPMBAI, other AFP financial institutions, non-uniformed personnel of the PNP, and other organizations and agencies connected with the uniformed services and major services bureaus
Graduates of the Philippine Merchant Marine Academy (PMMA), Philippine National Police Academy (PNPA), and Maritime Academy of Asia and the Pacific (MAAP)
c. Housing Loan – refers to the long-term housing loan facility that can be applied for by Members when purchasing real estate property (lots, house & lots) from the Association's own inventory
d. Mortgage Loan – refers to long-term mortgage loans that can be applied for by Members when purchasing any real estate property outside of the Association.
e. Construction Loan – refers to long-term loans that can be applied for by Member in constructing their own house.
f. Verified applications – refer to loan applications that have been completed with the corresponding underwriting requirements and verified by the SBUs concerned in terms of the Member's paying capacity and/or creditworthiness.
g. Officers – refer to the higher-ranked uniformed personnel of the different branches of service, starting with the ranks of 2nd Lieutenant (AFP), Inspector (PNP, BJMP & BFP), and Ensign (PCG)