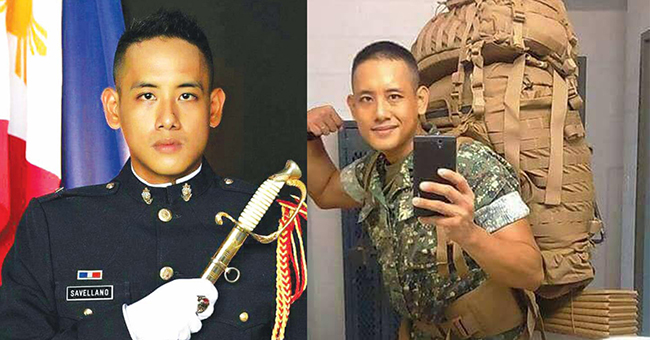 1Lt John Frederick S Savellano was one of the uniformed troops who were killed in Marawi. He had led the Marines team who recovered almost P80M from the Maute group's stronghold in Marawi. City.
Coping with the Loss
There was no heaviness of heart, feeling of hurt or pain among the family members of the late 1Lt John Frederick S Savellano, when they went to the AFPMBAI's head office to claim their beneficiary check. He was the second son among four children of Federico and Mercy Savellano. An aura of calm exuded from each family member composed of his eldest brother, Dian; only sister, Kristina; and youngest brother, Aaron. It was baffling and admirable at the same time.
Like any other family who experienced the passing of a member, the Savellano family also had their fair share of disbelief, denial and emptiness at first. "It was really difficult to accept, but then he was one of those who was given the title, Hero of Marawi. I told my wife , "we are not getting condolences anymore, but congratulatory greetings instead, since we have molded a hero," his father relayed prouder. "What lifted us up was the pouring in of admiration and sympathy from the people. There was no negative feedback about him," his mother remarked. The Savellanos' disposition were elated through the love they felt around the people who supported and sympathized with them, most especially from their family and relatives.
Even 1Lt Savellano's siblings had different coping mechanisms for their loss. For his eldest brother, Dian, he always convinced himself that he is honored to be his brother's sibling. "No, I am proud, because everybody's proud of my brother. I have to stand tall," he said with conviction. His only sister also had the same sentiment and commented, "My brother did not die for nothing. His death was for a greater cause." She even said that it was easier for her to cope with the loss since there were others who were crying for her brother. It validated the pain that she was feeling. "It's not just me experiencing that pain, there was pain among all of us. That meant that a lot of people loved and prayed for my brother. That gave me strength," she added. As for 1Lt Savellano's youngest sibling, Aaron he chose to be strong. "It's either I stay lonely, or I stay strong so that I can function well," he said.
Remembering 1Lt Savellano
The Savellanos were a perfect portrait of strength and unity amidst the passing of a family member. All their faces lit up when they reminisced moments with 1Lt Savellano. According to his father, John Frederick was a nice, sweet, witty and thoughtful son. His mother added that her son was sensitive to the point of sensing their family was going through a challenge. All these traits reinforced his being a loving individual. It was not surprising that he got along well with everyone. Even his friends attested that he was a good man.
1Lt Savellano was very principled too. "Even as a child, we already saw his great love for our country. He does not want to speak in English. He always remarks why would he speak in English when in fact he is Filipino?" his mother vividly remembered.
For his sister, 1Lt Savellano was a very supportive brother. He always made sure that he was updated with her life even while he was away for training or deployment. He also supported his eldest brother in a different way. "He provides this environment of healthy competition. He fosters good competition between us. I push him, and he pushes me to do well too," his eldest brother fondly recalled.
1Lt Savallano's closeness with his siblings is evidenced by their warm happy memories of him. This was also the case with his mother, who smilingly remembered her son as the most active among their children. "He would climb the windows, the grills, he jumps from their double deck bed," his mother depicted him back then. Even as a child, he was gentlemanly and all his siblings, such that his cousins respected him.
Dian was only a year ahead of him. He reminisced moments with 1Lt Savellano with deep admiration. "When we played computer games then, he was always the leader. He would always be at the frontline, the first to attack, the one to decide where to attack, the one who sets the game play and the one who provides the support at the same time. He knew what he was doing." He played center in their basketball team. He was always at the battlefield of any game. The characteristics of a Marine soldier manifested early on in 1Lt Savellano's life.
Joining the Marines
His family had no knowledge of his desire to enter the military. When he decided to pursue his dream, his sister did not question his decision. "I had faith in him that he would be able to chase his dream since that would make him happy." His eldest brother on the other hand had an opposite opinion. "I was so afraid for my brother. I might lose him." He had the same sentiment as their mother, who was nervous-stricken. "I told him that he might meet his demise early on in life and that he might get permanently disabled." Nonetheless, his parents supported them in their respective endeavors in life, including 1Lt Savellano's military dream. They respected his decision to join the corps.
It was his father who first knew about his son's aspiration to be a military man, as the latter did not want to finish his Nursing degree and instead join the Philippine Marines. His father half-heartedly said, "If that is what you want, I will support you."
In his wake, one of his teachers revealed that 1Lt Savellano really wanted to be part of the Marines early on since he asked how to enter the military. Some of his friends who got in the armed forces before him also recalled being asked by 1Lt Savellano about how to join the Marines. The influence may have been from his maternal grandfather who was a military veteran. Fortunately, 1Lt Savellano still finished his degree and went on serving in a hospital for half a year before giving it up and choosing to pursue his military dream.
He declared himself a warrior and wanted to be part of the Marines because that was where the action was. He was undeniably a strong and determined person who learned the realities and difficulties of life through his military training. Fortunately, his family supported him all the way.
Aspirations
Apart from being a member of the Marines, 1Lt Savellano also dreamt of having his own family. According to his mother, because of his irrefutable commitment and patriotism, he would have reached his ultimate dream to become the AFP Chief of Staff. He wanted the Philippines' military forces to reach greater heights and be world-renowned, most especially the Marines.
Reminders and Advice
1Lt Savellano's family gave full support to his military vocation. His parents already offered him to God because they knew his work would be life-threatening. His mother always reminded him that the brave and bold always meet their death earlier. His sister even gave her Benedictine medal to him for his protection in Marawi, while his eldest brother egged him to always believe in himself. "When you are about to give up, always remember that there are people who believe in you," he told him.
AFPMBAI Insurance
1Lt Savellano's family believed and supported him throughout his military career. Naturally, they were also his beneficiaries in his insurance policies.
"We knew about his insurance policy as a member of the Armed Forces of the Philippines when he joined the Marines, but we did not really pay any attention to it," his father noted. They were surprised to learn they were the beneficiaries of his policy, thinking that it was for his retirement. "We did not expect that we would be the ones receiving this and not him. The AFPMBAI has served its purpose for soldiers' families in need. I hope you continue your mission," his father added.
His mother was also surprised that her son availed of an additional insurance that made his siblings as beneficiaries too. "This is something for us. He thought of us. We are thankful to AFPMBAI for being in this kind of work — helping us, the families of soldiers who offered their lives for the country. We are grateful for you being there for us," his mother thankfully remarked.
1Lt John Frederick S Savellano availed of an upgraded Modified Basic Insurance and a 10-Year Endowment Plan. He is survived by his father, Federico; his mother, Mercy; and siblings Dian, Kristina and Aaron. While all of them continue to cope with his loss, he is a hero not just in their hearts, but for Marawi and the Filipino people.