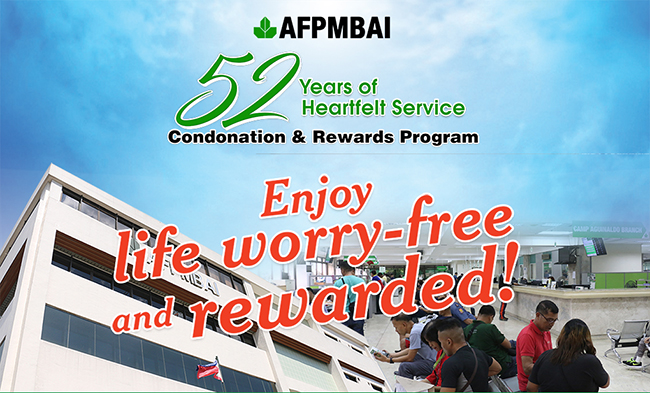 In celebration of AFPMBAI's 52 years of heartfelt service to its members, the Association launched its Condonation and Rewards Program as a way of showing appreciation for the continued support and patronage of its members, and ultimately to help the members improve their financial welfare altogether.
Condonation is offered to members whose insurance premium or loan accounts are in arrears* or dormant**. While rewards await members who will renew their Salary Loan or Members' Educational Assistance Loan (MEDAL), wherein members' loan accounts are updated and monthly amortizations are religiously paid.
Members who will join the Condonation and Rewards program may have up to 100% penalty condonation depending on the insurance or loan payment term. Borrowers may also receive gift certificates as incentive for prompt payment based on the amount of their loan renewal.
The Condonation and Rewards program will run from November 2017-June 2018. For more information, you may contact AFPMBAI Billing Collection and Remedial Department: Direct line (02) 911-3712 Trunkline (02) 911-4051 to 60 local 225 / 289 Mobile 0999-3034726 (Smart) /0956-6757316 (Globe)/ 0923-7491546 (Sun)
*In arrears – Accounts without any payment for 6 consecutive months and below from the last payment
date up to the current billing period
**Dormant – Accounts without any payment for 7 or more consecutive months from the last payment
date up to the current billing period